About Coastal Family Wellness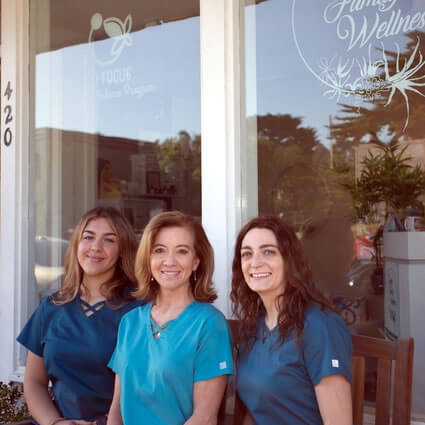 Coastal Family Wellness has been a fixture in the Pacifica community for several decades under another practice name, run by two chiropractors who have retired. They were very particular about who they transferred their patients too and Dr. Lisa Walsh exceeded their requirements. Dr. Lisa has been practicing since 2002 and bought the chiropractic office in 2017.
Breathing New Life into the Practice
To best serve the local community, Dr. Lisa rebuilt the practice, taking it in a new direction. She is focused on helping families live better lives. So many families are suffering; she wants to reach as many as possible. She believes when you help the child, everyone in the family is helped.
Providing Hope, Answers, and Help for the Entire Family
At our wellness center, every member of the family is welcome. Dr. Lisa loves seeing children and their parents come in together for care. While mom and dad get adjusted, your kids can have fun in the play area. When you're done, she can address your child's issues. Whether neuro-sensory challenges or earaches; you all will get the care you need.
Warm and compassionate, Dr. Lisa takes the time to listen to her patients. She enjoys building long-lasting relationships with them. She also provides customized care plans for each family member to achieve incredible results.
A Holistic Approach for Better Health
Coastal Family Wellness is a holistic, total body wellness center. We don't just adjust your neck and back, we check your extremities as well. We'll talk about what you're eating and how proper nutrition impacts your health. We'll ask how you're sleeping? Does your child have problems socializing? Are you having trouble concentrating? Is your child having reading issues? We're here to help you find answers, deal with the problem and provide solutions that work.
MEET DR. LISA
Get Started Today
Take that first step toward better health. Contact our chiropractic office today to book an appointment. We're open on alternate Fridays and Saturdays for your convenience.

About Coastal Family Wellness | (650) 359-6800