About Coastal Family Wellness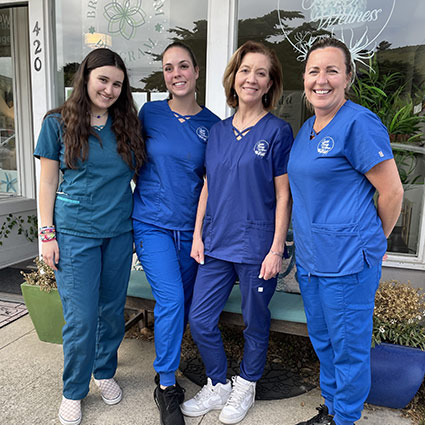 Coastal Family Wellness has been a fixture in the Pacifica community for several decades. Originally under different ownership, Dr. Lisa Walsh was honored to be chosen to step in and continue the tradition of quality chiropractic care in her community in 2017. Dr. Lisa has since rebuilt the practice, taking it in a new direction. She is focused on helping entire families live happier, healthier lives – especially families with children who face learning, behavior, and socialization challenges. We are here for you and your loved ones. Learn more about our compassionate, specific approach to chiropractic care.
MEET THE DOCTORS

Providing Hope, Answers, and
Help for the Entire Family
At our wellness center, every member of the family is welcome. Dr. Lisa loves seeing children and their parents come in together. Our practice is warm and inviting, equipped with a fun-filled play area. While you get adjusted, your kids can have fun. That way, they are happy and ready to go when it is their turn to be seen by Dr. Lisa.
Dr. Lisa takes the time to listen to her patients, including the smallest ones. She enjoys building long-lasting relationships with them and taking their unique needs into consideration. Dr. Lisa is here to validate your family's concerns and provide you with customized care plans to help you achieve incredible results.
A Holistic Approach for Better Health
Coastal Family Wellness is a holistic, total-body wellness center. We not only adjust the neck and back, we also look at the cranio-sacral system, the extremities and offer a variety of collaborative services to get you and your loved ones well. Dr. Lisa is especially passionate about caring for children with developmental setbacks. This is really more about addressing interference to the nervous system as a whole.
Additionally, we will discuss your child's sleeping and eating patterns, activity level, daily stressors, and more. With this information and the help of our in-office INSiGHT™ and RightEye Vision System™ technologies – we will dive deeper into their defecits, find answers, and come up with a plan of action that is right for your family.
Get Started Today
Take that first step toward better health for your whole family. Contact our chiropractic office today to book an appointment!

About Coastal Family Wellness | (650) 359-6800
PS: Coastal Family Wellness offers compassionate, family-friendly care to patients of all ages. Our gentle approach to chiropractic care is neurologically-based and measurable – designed to ensure optimal health and wellness!