Sports Chiropractic
at Coastal Family Wellness
One of things Dr. Lisa loves about Pacifica is the active lifestyle. There's so much to do – surfing, hiking, biking and more. In order to perform your best, your body needs to be in tune. That's where sports chiropractic comes in.
When your nervous system is correctly connected, you have better control of your senses. You have to receive all the cues from your body in order to be successful in sports. Balance, speed and endurance are all regulated through the nervous system. Being in-tune increases the level of your ability, regardless of the sport, putting you at the top of your game.
How Can Sports Chiropractic Help Me?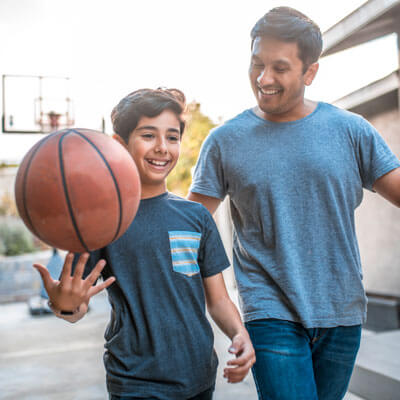 Many professional sports teams have made chiropractic care a part of their health regimen. Chiropractors are trained in how structure relates to function; sports chiropractic is a natural extension of this training.
Sports chiropractic is used by athletes in sports like:
Tennis
Golf
Basketball
Baseball
Hockey
Track
And more!
Sports Chiropractors help athletes increase their range of motion, reduce pain, lessen the medication they take and help delay or prevent invasive surgical procedures. Dr. Lisa understands athletes; she's one herself!
The RightEye Vision Tool helps to fine tune any inaccuracies that might be coming into your brain. Their special Sports Protocol raises the technology to another level. It sets you up to become better. RightEye is a non-invasive eye-tracking tool used to improve dynamic vision. Once an issue is detected, the Protocol assigns exercises to address the issue.
Athletes come into Coastal Family Wellness to maintain their health to perform in their sport to the best of their ability. The body adapts to that high level of stress to perform, but you have to learn how to handle it mentally as well. Dr. Lisa provides at-home trainings that coordinate with in-office treatment.
Injuries are going to happen to active people. When they do, chiropractic care should be obtained as soon as possible. Even if the injury seems minor, there can be other injuries not visible to the eye. Ignoring that possibility can have an impact in the future.
Why not get it taken care of now? You'll heal faster and correctly for the long-term. Chiropractic care ensures healthier healing now so you can be healthier longer.
Any head injury has the potential for a concussion. The pain and side effects may seem to go away but you could just be setting yourself up worse problems down the road. Sports related head injuries can have lasting effects which can be debilitating.
From a brain-based perspective, there's significant risk of long-term dysregulation. Your concussion may be a bigger deal than it appears on the surface. Dr. Lisa can find the answers you need and give you peace of mind.
Get Back in the Game
Injuries don't have to sideline you forever. Get the care you need to heal now and excel in the future. Contact Coastal Family Wellness for your free consultation today!
CONTACT US

Sports Chiropractor in Pacifica, CA | (650) 359-6800